Mária Bakti, Korinna Csetényi and Klára Szabó: English for Sports Teachers
7.2.2. Coleman Griffith: The Father of Sports Psychology in America
7.2.2.  Read the article below about Coleman Griffith and based on the information in it fill in the following grid:
Coleman Griffith: The Father of Sports Psychology in America (1893-1966)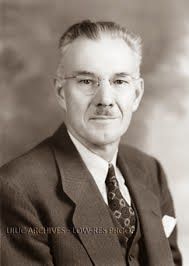 Coleman Griffith was born in 1893 in  Guthrie Center, Iowa, a small town in the American Midwest. He was a student at Greenville College until 1915 and studied psychology at the University of Illinois, where he got a PhD in psychology. Then he became the head of the University of Illinois psychology department. 
As a young teacher and an ambitious department head he regularly conducted psychological research. He was interested in vision and the attention of basketball and soccer players, in their reaction times, muscular tension, relaxation techniques and mental awareness. At the same time he was also teaching courses on the psychology of athletics. 
In 1925 he was granted generous laboratory space in a large new athletic complex that had just been built at the University of Illinois. It was the first sport psychology laboratory in the U.S.
The same year, he received a Guggenheim Fellowship and in 1926 he went to Berlin to do research in Germany.  As a result of his intensive research both at his home university and also in Berlin, he could publish his major works, including Psychology and Its Relation to Athletic Competition (1925),  Psychology of Coaching (1926), and Psychology and Athletics (1928).
Unfortunately his research laboratory at the university was closed in 1932;  it became a victim of budget cuts during the period of Great Depression. Later, in 1937 he was contacted by Philip K. Wrigley, the owner of the Chicago Cubs Baseball Club, and the head of the Wrigley Chewing Gum Company. Wrigley asked him to help improve the Cubs' performance. This is why Griffith became a consultant and opened a 'psychology clinic' for the Cubs' coaches, managers and players.
After this episode in business life he returned to the university and worked for the department of education until his retirement in 1961. He published many works on psychology and applied psychology, too, including An Introduction to Applied Psychology, an Introduction to Educational Psychology, and  Psychology Applied to Teaching and Learning, In addition to academic research he believed in the importance of field studies, too. He continued to conduct and publish many athlete and coach interviews.  
Coleman Griffith, the father of American sports psychology died in 1966.